Public
FTAA.soc/civ/97
June 13, 2003

Original: English
FTAA - COMMITTEE OF GOVERNMENT REPRESENTATIVES ON THE PARTICIPATION OF
CIVIL SOCIETY
CONTRIBUTION IN RESPONSE TO THE OPEN AND ONGOING INVITATION
---
| | |
| --- | --- |
| Name(s): | John Andrews, President |
| Organization(s): | ANSAC |
| Country: | U.S.A. |
---
May 2, 2003

Chair of the Committee of Government Representatives on the Participation of Civil Society
Secretaria del Área de Libre Comercia de Las Américas (ALCA)
8 Oriente No 1006
Paseo San Francisco
Centro Histórico, Puebla 72000
Mexico
Via Electronic Mail: soc@ftaa-alca.com

Re: Request to the Negotiating Group on Market Access for Immediate FTAA-wide Elimination of Soda Ash Tariffs (HTS 2836.20)

Dear Sir or Madam:

ANSAC welcomes the opportunity to respond to your Open Invitation to Civil Society in FTAA Participating Countries and contribute its views to the Committee of Government Representatives on the Participation of Civil Society. ANSAC directs its comments to the Negotiating Group on Market Access and respectfully requests reciprocal immediate tariff elimination on soda ash (also known as "disodium carbonate" – HTS 2836.20) as a key objective of market access negotiations for a Free Trade Area of the Americas ("FTAA").

About ANSAC and the US Industry

ANSAC, based in Westport, Connecticut, is a risk-sharing and cost-sharing export cooperative representing the American soda ash industry. The US industry produces high-quality soda ash through a clean and environmentally-friendly process that utilizes rich natural deposits located in the US states of Wyoming, California, and Colorado. ANSAC is committed to providing a reliable supply of high-quality soda ash at competitive prices to end-users worldwide, especially downstream value-added industries such as glass manufacturing.

What is Soda Ash?

Soda ash is a basic chemical raw material required to manufacture other basic commodities such as glass, detergents, and other chemical products. Soda is a critical production input, accounting for roughly 60% of the material cost for glass production and a high percentage of the material cost for detergent manufacture. Because soda ash is a basic commodity required to make other basic commodities, even the smallest price premiums (e.g., as little as a 2% price increase) can significantly raise production costs for these value-added downstream industries, costs that are passed on to other value-added manufacturers and ultimately tens of millions of consumers.

Tariff Elimination Benefits All FTAA Countries

Reciprocal and immediate FTAA-wide elimination of soda ash tariffs would result in widespread benefits for all member countries. Manufacturing in the value-added glass, detergent and chemical industries stand to benefit directly, resulting in the creation of tens of thousands of well-paying jobs. Competitive raw material costs will also improve: (1) the competitive position of FTAA-member country glass, detergent, and chemical exports in world markets; and (2) the competitive position of domestic production in these same products relative to non-FTAA imports such as those from Europe and Asia. Of course, the tens of millions of Western Hemisphere consumers are the greatest beneficiary of competitive prices for basic products such as detergents and glass containers.

High Hemispheric Tariffs Discourage Value-Added Manufacturing

Since small cost premiums (i.e., as little as 2%) significantly raise prices for value-added manufacturing, high hemispheric soda ash tariffs constitute a substantial barrier to the numerous downstream industries in FTAA countries that utilize soda ash. 2002 MFN tariff rates on soda ash in selected FTAA countries range from 1.2% in the United States to 11.5% in Argentina and Brazil. A patchwork of preferential systems can significantly reduce the soda ash tariff in intra-FTAA trade or eliminate it completely. For example, all soda ash imports from FTAA countries enter the US duty-free under NAFTA and other preferential trade programs. These preferences notwithstanding, a patchwork system that keeps some rates high and others low is highly inefficient and should be replaced with uniform duty-elimination. Notably, of the 34 FTAA negotiating partners, only three countries – Brazil, the United States, and Mexico – produce soda ash. Brazil and Mexico's production represent far less than a third of consumption of soda ash in each country.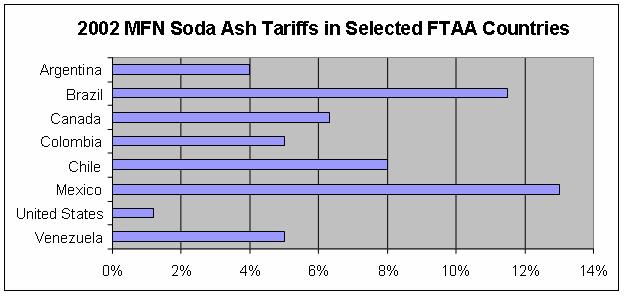 Conclusion

Immediate reciprocal soda ash tariff elimination is a win-win for all FTAA-member countries. It will directly direct benefit downstream value-added industries that employ tens of thousands of workers and increase the competitiveness of member country industry in world export markets. Ultimately, it will also benefit the tens of millions of consumers of basic products that utilize soda ash through lower prices.

ANSAC thanks you again for this opportunity to directly contribute to the FTAA process.
Sincerely,

John Andrews

President